PASKALS is an advanced fluid Systems Company offering a complete range of Products &custom built fluid systems & Services. We also provide Engineering Consultancy services in High Pressure Domain.
PASKALS offers complete range of advanced fluid systems. Our expertise spans all fluids (including specialty gases) and all applications. It spans Ultimate Vacuum Systems to systems with pressures up to 4000 bar. Our products are very popular with high technology industries like Automotive, R &D, Chemical, Oil & Gas Shipping, Defence, & Aviation etc.
PASKALS has cumulative experience of more than 200 engineering years in this domain and an established niche customer base in INDIA.
PASKALS in CNG Vigilant, CNG Circuit Leak Tester, CNG Circuit Component Tester, CNG Service Masters, CNG Dispensing Unit, PressurePAC, TestPAC, Gas Distribution Systems, Gas Generator & Plants, Special Gas Systems, and Pilot Plant & Hydraulic Power Packs.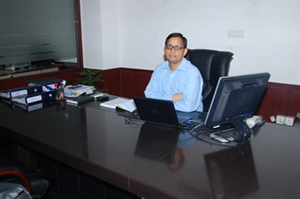 Mr. Shailendra Pratap Singh
Director and Chief Executive Officer
of Paskals Fluid Systems Pvt.