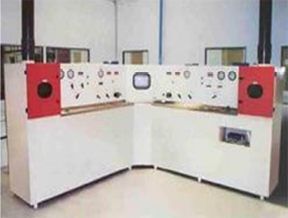 TEST BENCHES FOR VALVES

Paskals designs, manufactures and delivers valve test units for pressure testing any type of Gate, Globe, Plug, Ball, Check, Safety and Butterfly valve according to all international test standards.

Capabilities:

♦ Range DN10 2200 mm. / ¼ - 86.
♦ Horizontal (stem vertical), vertical. (Stem horizontal) or tilting clamping
system
♦ Clamping on the inlet flange, either flanges or (proportional clamping)
between the clamping tables.
♦ 1 2000 tons of clamping force.
♦ With no or limited linear force on the valve body.
♦ Test pressure range: from vacuum up to 2000 bar / 30,000 PSI.
♦ Test medium: Liquid, compressed air, Nitrogen, Helium or Hydrogen.
Standard Features:

♦ Computer registration system.
♦ Full automatic operation system.
♦ Testing one or a complete series of valves.
♦ Automatic open close action.
♦ Valve performance testing, considering; measuring of the stroke measuring, open/close time and torque measuring.
♦ Stainless tubing.
♦ Fugitive emission and cryogenic test facilities on requirement.


Tests include:

√ Shell test - pressure inside the assembled valve to 1.5 times working pressure.
√ Back seat test - pressure inside with seat fully opened and closed to 1. 1 times working pressure.
√ High pressure closure test -pressure applied to each side of the closed valve to 1. 1 times working pressure.
√ Low pressure closure test - same as high pressure but with air at 100 psi (7 bar), detected by air bubbles in a water column or in
laser bubble counter.
√

Relief valve test - opening pressure using a 'Pop' test and to 90-95% of set pressure.