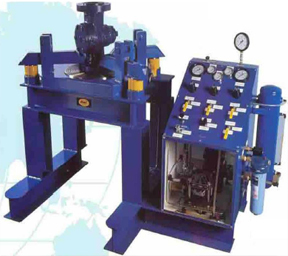 Test benches for Safety Valves

Paskals designs, manufactures and delivers Safety (relief) valve test benches for set pressure measurement on all types of spring or pilot operated safety (relief) valves.

General specification:

♦ Range ¼ -10 or ¼ -16. (Larger stations available on request).
♦ Low or high volume full lift testing.
♦ Stationary, skid mounted portable or containerized systems.
♦ Safety screen.
♦ Safety interlocks.
♦ API 527 test facility.
♦ Liquid test system with J-tube design.
♦ Test medium: Compressed air, Nitrogen or Liquid.


Features:

♦ Windows operated Computer Registration System.
♦ Full automatic set pressure and leakage testing.
♦ Pneumatic or electric driven high pressure compressor and storage system.
♦ Set pressure detection system by lift and acoustic measuring.
♦ Adapters for male and female thread connections.
♦ Partly for fully closed safety closure.
♦ Separate of combined test facility for pressure vacuum (breather) valves.